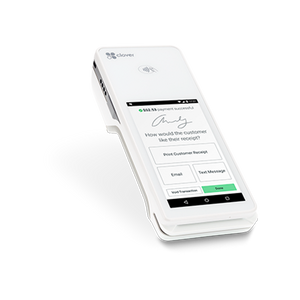 Sold only with a new or existing merchant account under NAB Merchant Services.
Everything your business needs, in one simple, reliable device
User friendly interface
You and your cashiers can start taking orders with minimal training.
Always connected
Cellular and WiFi connectivity ensures redundancy so you never miss a sale.
In the cloud
Cloud accessible data means you can handle your business from any internet connected device.
Advanced features that make running your business easier
Robust inventory support
Categories, labels, modifiers and variants let you add information like color or size to keep your inventory organized, and make exchanges even easier.
Key sales information
Log in any time for info at a glance. See how sales are going up to the hour or compare your daily totals against the last week.
Custom-branded gift cards
Attract new customers and retain old ones with custom-branded gift cards.
Keep your customer list in order
Manage your patron's contact info as well as their marketing preferences, so you can engage with them how they prefer.
Turn customers into repeat customers
Create a fun, effective loyalty program within minutes—absolutely free, no strings attached.