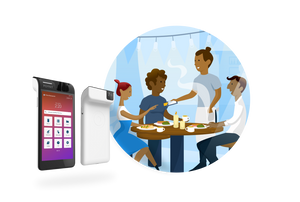 Sell everywhere.
Manage from anywhere.
Grow all the time.
Poynt is your all-in-one omnicommerce payment solution.
Monitor money movements
Keep tabs on your money, including sales, refunds, and transfers to your bank easily using any Poynt terminal, our mobile app, or our web portal.
Simplify accounting
Streamline your accounting using Quickbooks – Poynt automatically keeps all your transactions updated in Quickbooks and synchronized with your Poynt account.
Centralize everything
Use powerful 3rd party apps that seamlessly integrate with Poynt to manage everything from employee payroll and scheduling, inventory management, and customer appointments to cash discount incentives at point of sale and even cryptocurrency payments.
Effortlessly mobile
All the power of Poynt Smart Terminal, yet fits in your pocket – Poynt 5 lets your customers pay you when and where you'd like.


Swipe, dip, scan, tap
Accept all forms of physical payments including swipe or chip cards and contactless payments such as Apple Pay and Google Pay.